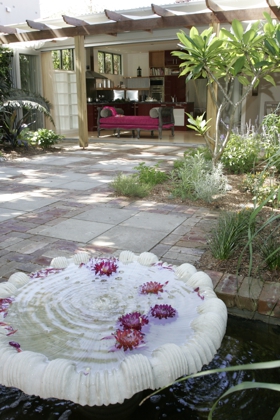 "Anahata Therapies" is the Lower North Shore's first and premiere Ayurvedic Centre located in the heart of Mosman. Anahata Therapies specialises in the "Goddess" – by indulging women (as well as men) with Ayurvedic as well as Western based treatments and consultations, including facials, Body Treatments, body treatments, Ayurvedic consultations, baby massage, meditation and energetic healing.
The word "Anahata" is the Sanskrit word for the heart chakra in the body.  It is the place where the soul resides and personal truth resonates.  The inspiration for the centre in fact comes from the ancient Indian healing philosophy of Ayurveda  – a philosophy which is now gaining devotees in western society because it focuses on the balance of mind, body, spirit and nature in order to promote optimum health. Healing from the heart is our mantra and philosophy.
This focus on Ayurvedic philosophy is embedded throughout the centre – its treatments, products, materials and refreshments, making Anahata Therapies a highly unique experience on the lower North Shore.
On entering the gates of Anahata, guests immediately experience this important balance of mind, body and nature.  A playful Indian Marble Water Fountain greets you as you wander through an enchanting tropical Buddha Garden. Walk past the Lotus reflection pond and take in the scents of our organic herb garden, used in our treatments, refreshments and dedications.
Enter into the sacred healing space of Anahata's "Relaxation and Nurture", where we encourage you to spend at least 10 to 30 minutes after your treatment to complete your experience, whilst enjoying Ayurvedic seasonal refreshments.
Body treatments are provided in traditionally decorated "Diamond", "Gold" and "Silver" rooms. Consultations, facials and some body treatments take place in our upstairs haven overlooking the tropical garden in our Indian Inspired Consultation Room.
The Centre offers Rejuvenating and Detoxifying Body Therapies, including Ayurvedic Massage, Padhabyanga (Foot Massage), Shiroabhyanga (Indian Head Massage), Sacred Stones Massage,  Ayurvedic Facials, Meditation and Infant Massage (individual or classes) based on the time tested Indian traditions.
Anahata Therapies is also proud to have on board Dr Shivani, an Ayurvedic Doctor who consults and treats from her new permanent home: Anahata Therapies.
We also offer more traditional Western treatments – Ear Candling, Traditional Massage including Pregnancy, Post Natal, Aromatherapy, Remedial, Lymphatic Drainage and Therapeutic Facials using Gernetic.
To complement the natural skin care ranges that we provide, we also offer Jane Iredale Skin Care Make-up, the originator of mineral make-up.
We provide group packages.
In addition to these therapies, Anahata is also proud to offer regular Workshops & Events, including Ayurvedic Cooking classes, Infant Massage Classes, Meditation Classes and Events supporting and encouraging health and wellness and empowering our valued clients to take charge of their own preventative health care in order to reach and maintain optimum health and wellness on all levels – mind, body and spirit.
Indeed, Anahata's philosophy is based on achieving optimum health, vitality, and balance for clients by providing a caring, relaxing and nurturing environment with the highest standard of professionalism and service.
We aim to use organic products, materials, foods and cleaning agents, supporting not only the health of our clients but also the health of the environment and Mother Earth. Our organic linen used in all of the treatments supplied by Nativa have been formulated by Ayurvedic Doctors using ancient wisdom, herbal dies, organic materials and Ahimsa (non-violence) techniques.
We use eco-friendly cleaning agents, we have rain water tanks to water the garden and flush our toilets. We care about the environment and want to maintain this philosophy with ALL that we do.
Once you are absorbed in the space of "Anahata" you will be transported to a place of tranquility and bliss. The aim is for your complete relaxation and healing at a deep level, in the privacy and comfort of a home environment.
Come and experience Anahata on your own or as a group to celebrate a special occasion or event!