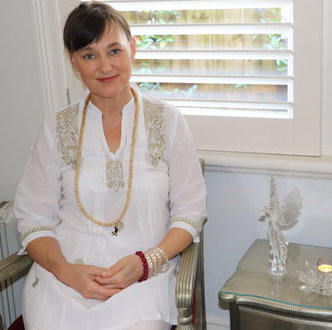 Jana's Career began in 1987 when she completed her Arts/Law Degree from The University of NSW and started working at Westpac Banking Corporation for the Company Secretary in the Managing Directors Office as a Corporate Lawyer some 23 years ago.  She worked there for 5 years.
However her real career, the beginnings of Anahata Therapies and her real passion for alternative therapies ignited when she had her first baby Benjamin (Ben) in 1992.
Having a difficult birth, a difficult baby, unable to breast feed despite many painful and excruciating attempts, feeling out of control, suffering from continuous sleep deprivation with a baby that would only ever sleep for 20 minutes at a time, and suffering from oblivious post natal depression, sparked an idea to have a place for women that would look after them, educate them and nurture them throughout this precarious time.
This was meant to be the most precious, loving and enjoyable time of a woman's life. Feelings of guilt, depression and hopelessness set in. One week spent at Tresillian did little to change this situation.
As Ben developed Asthma and Eczema from birth and many visits to Doctors, Paediatricians and Hospitals, Jana realized that there had to be an alternative treatment to the prescription drugs and permanent Asthma medications.
Jana started visiting a Naturopath and her mind opened to alternative therapies.
Ben's diet was drastically changed from one of dairy to one based on dairy substitutes. This was the point in her life when she realized that Nutrition made a difference to Ben's state of health. His Asthma started to improve through the change in his diet.
Jana went on to have two more babies – Anthony in 1994 and Amelia in 1996, despite her thinking that she would never have any more babies after the experience with Ben!
When Amelia started school in 2001,Jana decided to go back to schooling part time and learn Nutrition,  to have a scientific backing to what she should feed her family in order to provide them with optimum health and assist Ben with his Asthma management plan.
During her study period at Nature Care College, St Leonards, Jana still participated in her children's school lives and was actively involved in their School Communities and activities. She helped out with reading classes, School Canteen Duties, Excursions, Sports Carnivals and working as a Class Mother throughout this time. In 2006 she joined the Parents & Friends Executive Committee at St. Aloysius College for 3 years (Vice –President in 2006, President in 2007, and Vice President Pastoral Care 2008 with active involvement in World Youth Day as a Group Leader). In 2007 she helped develop the first "Healthy School Canteen" in the Junior School at St. Aloysius College encouraging organic eating and preparing foods on the premises as opposed to serving pre-packaged processed meals. In 2009 she ran the Wishing Well for Mary Ward International at Loreto Kirribilli School, supporting Loreto Sisters in their projects for the poor around the world.
After 8 years of study, Jana graduated from Nature Care College with Diploma's in Nutrition, Remedial Massage, Lymphatic Drainage, Aromatherapy and a Certificate IV in Ayurvedic Lifestyle Consultation.
Jana found Ayurveda, the ancient Indian healing system dating back 5,000 years, to be such an effective and specific science that she decided to go to India in 2008 and study further….
First with Professor Kulkarni (Past Dean of the Ayurvedic Faculty, University of Pune) in his Clinic in Pune.
After 6 weeks in India, Jana found her greatest inspiration for a Clinic that would be based on Ayurveda, from the Ayurvedic Doctors and students that she met.
She discovered whilst working in the Clinics that Ayurveda was able to heal or control diseases which conventional medicine had given up on or was unable to treat.
Moreover she was inspired by the humbleness, dedication and complete gratitude displayed by Ayurvedic Doctors for their gifts of healing through Ayurveda.
She also learnt that once a month they would visit the poor and treat them with Ayurvedic herbs and medicines for free, as a way of giving back to society.
It is her wish to go back to India in time when her children complete their schooling, and study further to become an Ayurvedic Doctor.
Jana is a member of a number of Professional Associations including Australian Traditional Medicine Society (ATMS) with Health Fund Rebates availability for a number of her modalities including Remedial Massage, Aromatherapy and Nutrition.
Her vision for 'Anahata Therapies' is to have a healing Centre specialising in women ("The Goddess") where they are nurtured, educated, empowered and healed in a space that is a true temple and retreat honouring their femininity.
Anahata Therapies Centre specialises in women's journeys throughout their  entire lives – from birth, childhood, teenager, pregnancy, motherhood, and menopause.
Women are supported in every stage of their journey by offering many services for each stage of their lives including Naturopathy, Nutrition, Body Therapies, including Pregnancy Massage & Baby Massage, Therapeutic Facials, Ayurveda, Yoga & Pre-Natal Yoga, Meditation, and Ayurvedic Cooking and Ayurvedic Lifestyle Consultations.
Anahata Therapies is also inclusive of men and wants to honour their journeys, so that even though women are Anahata's speciality, men are always welcome!
Qualifications
Bachelor of Arts/Laws 1987 (University of NSW)
Diploma of Remedial Massage 2005 (Nature Care College, St. Leonards)
Diploma of Lymphatic Drainage 2006 (Nature Care College, St. Leonards)
Diploma of Aromatherapy 2007 (Nature Care College, St. Leonards)
Diploma of Nutrition 2009 (Nature Care College, St. Leonards)
Certificate IV Ayurvedic Lifestyle Consultation 2006 (Nature Care College, St. Leonards)
Certificate of Merit, Practical Training In Applied Ayurveda 2008 (European Ayurveda Academy, Pune, India)
Certificate of Sacred Stone Therapy & Foundation Stones 2007 (Sacred Stones Australasia, NSW)
Transference Healing Practitioner Accreditation Certificate 2011
Transference Healing Teachers Accreditation Certificate 2011
Memberships
Australian Traditional Medicine Society ATMS
International Aromatherapy & Aromatic Medicine Association (IAAMA)
Australian Association of Ayurveda Inc
Australian Association of Infant Massage Australian Inc (IAIM)
Beyond Horizons Health & Social Circle (BHHAS – Ayurveda India)
Crimson Circle Affiliate
Ayurveda Yoga Australia