For the Face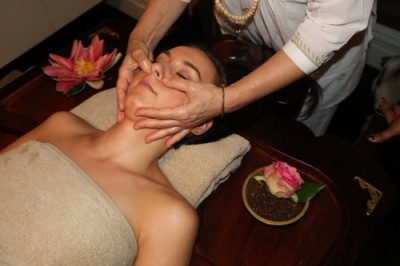 Are you feeling particularly congested? Try our Lymphatic Facial/Sinus Drainage. This massage provides a clearing of the sinus', which is perfect for clients that struggle with congestion. It is also an excellent treatment for sinus congestion, hay fever and headaches. Combined with Ear Candling it has an excellent result in reducing these symptoms.
Marma Point Massage is a kind of 'mukh abhyanga' with work on the marma points (vital points), which serves to clear the energy pathways of face and neck. During the facial, marma points are also massaged with light to medium finger pressure.
Benefits:
Enhances lymphatic drainage;
Cures sinusitis problem;
Cures headache;
Helpful in acne and dull skin as it improves blood circulation; and
Glowing and healthy skin.
Bioptron Light Therapy
The Bioptron Light Therapy R System is a worldwide patented and TGA approved medical light device with a specific optical unit emitting polarised, polychromatic, incoherent, low-energy light that is similar to a part of the electromagnetic spectrum produced naturally by the sun but with no UV radiation, no heat, and with no known adverse side-effects. It is a simple, fast, comfortable, and pain-free yet effective treatment for many conditions.
It is especially recommended for:
Acne (Blue Light stimulates cells to produce a chemical that kills bacteria in acne responsible for inflammation.)
Atopic Dermatitis (Eczema) (can relieve the irritation caused and regular treatments will dramatically improve the condition)
Psoriasis
Rosacea (Dermatologists have had much success with rosacea using violet light)
Herpes simplex & zoster
Superficial bacterial infections
Mucosal lesions
Wrinkles & Fine Lines
ADD ON Lymphatic Facial 1/4 hrs: $40
ADD ON Marma Facial 1/4 hr: $45
ADD ON Bioptron Light Therapy 1/4 hr: $45 | 1/2 hr: $90