Spring Ayurvedic Herbal Detox Package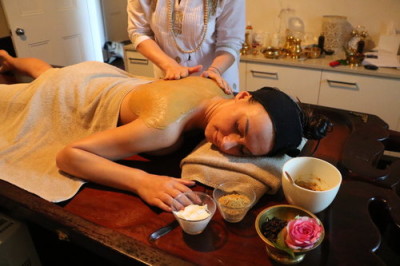 Book this deluxe Ayurvedic Detoxification package that will delight all your senses, help spring clean toxins out of your body leaving your skin exfoliated, hydrated, nourished and rejuvenated. The Ayurvedic Herbal Mask applied as a body wrap acts to detoxify, heal and balance the skin leaving it smooth and hydrated.
This package also includes a complimentary 1/2 hr Full Body Dry Body Brush (worth $70) with a take home Brush (worth $27) saving you $97! Dry body brushing is very stimulating to the skin and excellent to do in Spring. It exfoliates dead skin cells increasing circulation, detoxification and lymph flow. It is a perfect procedure before a body wrap/mask to gently exfoliate the skin and stimulate superficial glands enhancing the beneficial effects of the treatment.
This package is made up of the following:
1/4 hr Consultation
1/2 hr Complimentary Dry Body Brush (including take home Dry Body Brush worth $27)
1 hr Ayurvedic Massage
3/4 hr Herbal Body Mask Application, Wrap & Exfoliation
1/4 hr Shower
1/4 hr Moisturizer Application
1/2 hr Rest & Relaxation
Rich in culture and tradition, this OmVeda Ayurvedic Body Treatment incorporates herbology, topical treatment and massage true to ancient Ayruvedic teachings that offers all the benefits of this exceptional healing system. A unique combination of herbal powders, blended with fresh organic yoghurt to detoxify, heal and balance the condition of the skin. This has the dual action of nourishing, exfoliating, hydrating and rejuvenating the skin and is suitable for all skin types, resulting in a smooth, soft skin, and removing any minor blemishes.