Sacred Stones Massage (Shila Abhyanga)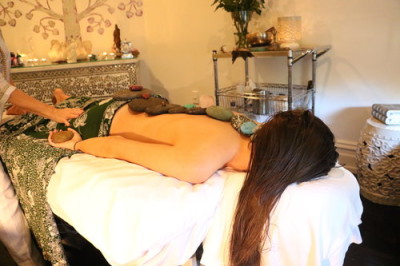 Combines the art of stone bodywork with the ancient science of Ayurveda integrating the use of stones with traditional Ayurvedic Massage, plus a 1/2 hr Animal Magic Card Reading.
The therapy is designed to nurture, sooth, warm, nourish and calm the entire person.
Warm stones and crystals are laid upon the body following the ancient chakra system.
Heated, textured, chilled and silky stones are glided, massaged, spun and edged along the body using warmed organic oils and essential oils specific to the individual dosha.
Stones carry healing vibrations and magnetic qualities referred to as "Prana".
The healing energy of the stones is released through clicking and tapping of the stones as well as the use of sound vibration through crystal bowls, Tibetan bells & bowls, and drumming.
This therapy can bring deep tissue release and alignment in body, mind and spirit.
It is a very sacred experience and completely beyond just a massage! Book today to discover why…
2 1/4 hrs: $290
2 3/4 hrs: $345