Padabhyangam (Foot Therapy)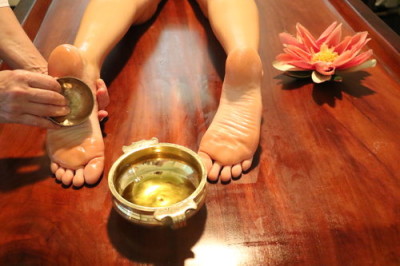 Padabhyanga helps to strengthen these nerves and restores health in many parts of body, as well as:
Improves blood circulation and fertility;
Reduces swelling and soreness in the lower leg;
Prevents dryness and cramps; and
Relieves insomnia, nervousness and other conditions.
This highly relaxing Ayurvedic foot massage uses specialized Ayurvedic oils to revitalize tired feet and stimulate body systems.
Padabhyanga stimulates all the organs of the body with deep relaxation influencing the entire system.
If you choose the 1hr treatment you will receive in addition the following:
The feet are soaked in a Relief Foot Soak to prepare for the massage of the feet and lower legs;
A foot scrub with Rasayana Detox Body Scrub follows; and
The treatment ends with a hot compress on the feet and legs and a luxurious lotion applied to the legs and feet.