OmVeda Ultimate Goddess Facials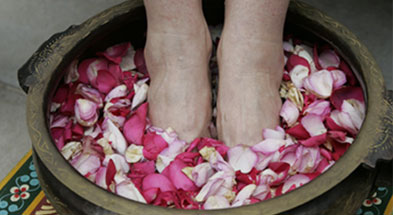 OmVeda Skincare & Hair care is recognised as Australia's leader, innovator and pioneer in organic, Ayurvedic health and beauty made to traditional Ayurvedic principles. The manufacture and preparation of ingredients used in the products follow strict Ayurvedic principles, which have been specifically formulated and tested to use with every skin condition and for the holistic treatment of a wide range of conditions.
The OmVeda Goddess Facial Rituals are organic treats for the face and body to help restore vitality and rejuvenate on every level.
This is the ultimate Goddess Facial designed to improve the overall beauty and health of the skin and hair.
It is a prescriptive, relaxing and rejuvenating treatment which comprises an extended facial including two OmVeda masks.
After a 15 minute consultation to ascertain the skin type and facial treatment, the Ritual begins with a Rose Petal Foot Bath followed with Om Shiro (Indian Head Massage).
The facial continues with the application of two OmVeda masks, an OmVeda Marma point signature facial massage releasing any traces of stress, Hastabhyanga (Hand Massage) and finishing with Padabhyanga (Massage of the Feet).
*Click to read  more information on the skin type or ' doshas'  Vata, Pitta , Kapha  here
Why not purchase a facial series at a discounted price?
Series of 6: $1,470