OmVeda Herbal Body Detox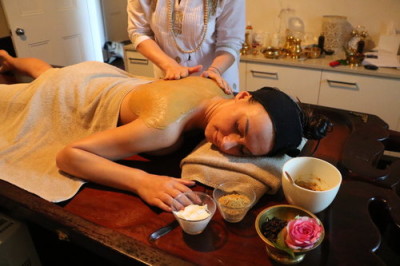 Rich in culture and tradition, the OmVeda Ayurvedic Body Treatments for the face, body and hair incorporate herbology, topical treatment and massage true to ancient Ayruvedic teachings that offers all the benefits of this exceptional healing system.
A unique combination of herbal powders, blended with fresh organic yoghurt to detoxify, heal and balance the condition of the skin.
This has the dual action of nourishing, exfoliating, hydrating and rejuvenating the skin and is suitable for all skin types, resulting in a smooth, soft skin, and removing any minor blemishes.
The treatment begins with an Ayurvedic massage using dosha specific oils.
After application of hot towels to the body, the OmVeda Herbal Mask made up of turmeric, sandalwood, neem, rose and orange peel is then mixed with Organic Yoghurt and brushed onto the body.
The mask is left for 25 minutes during which time a facial or scalp massage is enjoyed. The mask is then exfoliated off the body with OmVeda signature exfoliation techniques.
The treatment is completed with the application of OmVeda Turmeric Cream for detoxification or Rehydrating Body Lotion to help calm the skin after vigorous exfoliation.
Add a Dry Body Brush to this treatment for a more effective, detoxifying and stimulating treatment, which adds ½ hr to the overall treatment.