OmVeda Dazzling Diamond Facial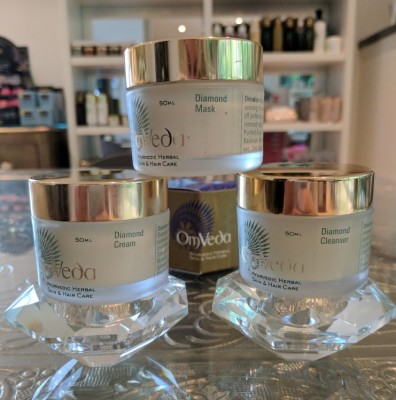 This Facial has been created to utilize the whole OmVeda Diamond Skin care range into one facial including the Diamond Cleanser, Diamond Herbal Mask, Diamond Mask and Diamond Cream creating a most luxurious, anti-aging, richly rejuvenating and pampering experience. Like an elixir of youth for timeless beauty, this Facial helps counter the laws of gravity and incorporates the OmVeda Signature Facial massage to give mature skin the boost it needs to regain its vibrance and radiance. Totally indulgent and a powerful age-defying treatment, it uses pure Diamond Ash as the key component and teams up with an exclusive complex of herbs to help skin in need of repair, kick starting cellular metabolism, stimulating collagen production, oxygenating and minimising finer lines and wrinkles. Freshening the skin, it instantly lifts lack lustre complexions and improves the overall health of the complexion.
According to Ayurvedic medicine the use of precious metals and stones play a key role in delivering healing properties to the skin and body. For this reason, they are used extensively in their product formulations. When combined with specific natural herbs in skincare products, these ingredients have been proven to offer excellent results in improving the moisture level of the skin, enhancing cell renewal and improving skin vitality and regeneration. Diamond Ash produced from Diamonds is one of them. This ingredient is contained as a main ingredient in the whole OmVeda Diamond skincare range.
Why not purchase a facial series at a discounted price?
Series of 3: $660