Kizhi Treatment (Herbal Massage)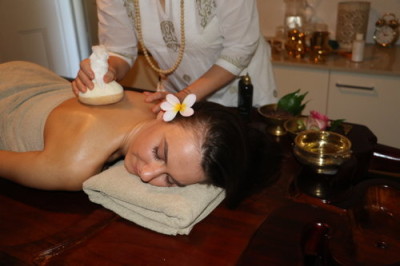 'Potli' or 'Kizhi' is a massage which uses small herbal pouches made of various herbs which are warmed in medicated oils. They are then used to massage the entire body or specific areas like the back, neck, shoulders, hands and joints.
There are different kinds of kizhi treatments:
Medicinal Leaves (ElaKizhi – PatraPotaliSwedan)
This treatment involves the whole body or any specific par of the body having medicinal leaves puddings applied in the form of boluses tied up in muslin bag, dipping it in warm medicated oils. Fine powder of medicinal herbs can also used. This treatment is effective for chronic back pain and rheumatic complaints, Arthritis, paralysis, pain and swelling in the joints, and emaciation of limbs. It stimulates and strengthens the nervous and muscular systems, increases circulation and metabolic rate, reduces stiffness and pain, and improves the skin tone.
Podikizhi (Choorna Swedanam)
This involves the application of medicated powders to the body. Therapeutic effects include improvements in certain types of neurological conditions, Arthritis caused due to block of Vata by Kapha, overweight and obesity, some types of acute pains like sciatica, and lumbago.
Why not purchase a massage series at a discounted price?
Series of 6: $1,230