Infant Massage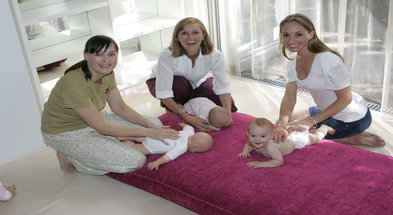 Infant Massage is an "age old" tradition. Historically, it has been passed down from generation to generation, from mother to daughter.
In the words of Vimala McClure, the founder of IAIM (International Association of Infant Massage), "The Origins of Infant Massage arise from a mother's desire to nurture her child with all her senses".
Come and learn the art of massaging your infant either one on one privately, or in a class situation.
The IAIM program runs for 5 weeks with attendance once a week for one hour.
The instructor demonstrates the strokes on a doll as infant massage is fundamentally developing communication between the infant and his/her caregivers.
The strokes and styles of massage which have been validated through research are easier to grasp when demonstrated by a trained instructor. Some of the skills and topics taught are stroke, pressure, rate and rhythm, a routine for colic, relaxation and parent empowerment.
The course is researched based and the Instructors are certified by IAIM having completed an intensive Instructor IAIM training course, practicum module and examination specifically designed by IAIM. This course has been taught in over 35 countries since its inception in 1982.
Infant Massage has many benefits including Benefiting the Baby through:
Interaction – promotion of bonding, secure attachment, verbal-nonverbal communication, undivided attention, feeling respected, love, tolerance, nurturing touch, early contact with both parents, empathy, imitation.
Stimulation – of circulatory system, digestive system, hormonal system, immune system, lymphatic system, nervous system, respiratory system, co-ordination & balance, language development, improved learning ability, muscular development & tone, growth, elimination, sensory integration, mind/body awareness.
Relief – of gas and colic, constipation & elimination, gastrointestinal cramps, excess mucous, growing pains, muscular tension, teething discomfort, sensitivity to touch, physical and psychological tension, softening of the skin.
Relaxation – through improved sleep patterns, normalize muscle tone, increase flexibility, calmness, reduced stress levels and stress hormones, less hypersensitivity, less hyperactivity, enjoying positive" time out".
The benefits of Infant Massage for Others include:
Benefits the Parents – through a better understanding of their baby, reading & respecting cues, promoting bonding, promoting secure attachment, improved self-esteem and confidence, improved parenting skills, positive activity, early involvement for father, a chance to discover baby's uniqueness, quality time, decrease stress hormones, higher levels of relaxing hormones, relaxation, improved sleep, stimulates lactation, decrease in post-natal depression, meeting other parents.
Benefits to entire Family – involvement of siblings, deceased sibling rivalry, increased respect, relaxed environment, reduction of conflict, better sleep.
Benefits For Society – increase of positive touch, increased respect & empathy, reduction o abuse, violence, vandalism & crime, reduction of national health costs due to healthier society.
We encourage both parents &/or grandparents to attend, so that everyone learns to bond with your new infant.
The cost of the course includes the attendance of the infant, its caregiver and other family members who wish to learn, the massage oil and instructional notes.
Price includes you, your baby and another (your partner or Grandparent).
Note: In order for a class to be run, at least 2 Mothers and Babies are needed.
1 hr weekly x 5 (CLASS Sessions): $375
1 1/4 hr (PRIVATE Session): $135
1 1/4 hr weekly x 5 (Series PRIVATE Sessions): $600