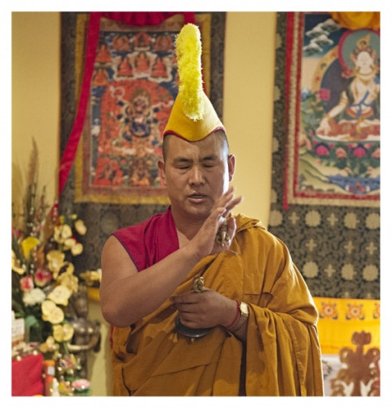 Lama Tendar was born in the Kham district, Eastern Tibet and became a monk at the age of twelve in the Mahayana tradition. He studied the ancient art of Tibetan tantric chanting, prayer and meditation for 7 years. Then after a further 14 years of study he became a qualified teacher of sacred Buddhist art.
In 2000, Lama Tendar travelled across Europe as Chant Master with the Gyuto monks. He first visited Australia in 2001 and became an Australian citizen in June 2005. Tendar now resides in Melbourne, teaching meditation, Tibetan language, sacred art and chant at the Medicine Buddha Tantrayana Meditation Centre.
Lama Tendar has dedicated his life to serving others and works tirelessly to achieve this. In doing so, he is emulating the "way of a Bodhisattva".
Lama Tendar had the great honour of being chosen to be the Head Chant Master for His Holiness The Dalai Lama's teachings in the Blue Mountains in June 2015.
We are blessed to have Tendar visit Anahata twice a year, a tradition that began in 2011.
All proceeds from healings, retreats, workshops, and tours go towards providing food, medicine, education, and shelter for Tibetan Children. If you wish to donate to the Tibetan Children's Fund, click here.